Who do you look up to in your line  of work?  I have a list of heavy hitters in the voice over industry I aspire to have a career like.  A list of people who have done voice over for national campaigns, toys, as well as  character voices.  People who have been in the industry for years!
So when I heard that Nancy Cartwright was doing a Q&A in LA at the Acting Center I jumped at the chance to take the road trip down!  List of questions in hand  and huge smile on my face.
If you don't know the name Nancy Cartwright, then you  may know her better as the voice of Bart Simpson from the hit cartoon series, The Simpsons.  She is also the voice of Ned Flanders kids  and Nelson.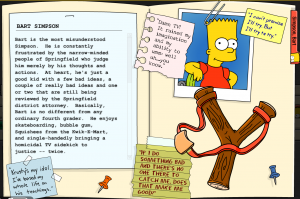 Below is a list of  questions I brought along with me to have answered (with the answers, of course!)  Most of my questions were answered in the Q&A with voice over artist and actor Jim Meskimen who was our host.

Q&A here!  
Q: What advice do you have for people wanting to do voice overs?
Nancy: Knowing that it is more than just a voice is important. It's about attitude, delivery, interpretation, making something your own. Taking classes is really important.  Find mentors.
Q: How did you get into doing voice overs?
Nancy: I started out doing theater at a young age. I had no idea that you could get paid doing voice overs.  Then Daws Butler name was brought up when I was working at WING, local radio station in Dayton, Ohio.  He is the voice of Huckleberry Hound, Yogi Bear, Quick-Draw Mcgraw.  I had his phone number and I had a phone, so, I called him. Pretty simple.
He encouraged me and guided me, via the mail, and after corresponding with him for two years, I decided to move from Ohio to LA to make a go of it.  He eventually took me to Hanna-Barbera and the rest is history.
Q: How did you come up with the voice of Bart Simpson?
Nancy: I actually went in to audition for the voice of Lisa but when I saw that there was a part for a Bart Simpson I asked to audition for that part instead.  Bart's voice was really something that just came naturally to me. When I auditioned for the part, I gave Matt Groening one sound, and what you hear is what I did! I was hired on the spot.
Q: What are your current goals?
Nancy: I am currently writing a feature-length film based on a journey I took in Italy in the mid-80s. It is called In Search of Fellini. It is truly a labor of love and I have never been happier as an artist.  I am also writing and producing an animated show. This is in development and you will hear more about this later.
Although the Q&A session was  mostly about her path to becoming a voice over artist her advice to us was simple:
"Do what you love.  Invest in yourself."
Nancy Cartwright has voiced many characters.   I enjoyed listening to her story and hearing her perform the different character voices   Someone had asked her if she had any tips on doing character voices.  She responded:
"Commitment is key.  Commit to being that character.  If you are not fully committed it will show."
What a great way to spend the afternoon!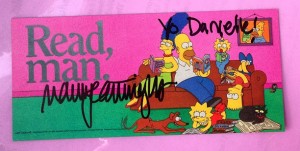 Danielle Hall
aka Dani Vox!